TOR++ 一个强大的tor组合包
下载后如果不能连接Tor请更换可用的https代理,找到torrc文件用记事本打开,找到HTTPSProxy 165.193.102.220:80把里面的165.193.102.220:80改为其他可用的https代理,https代理可以在
http://www.proxy-list.org/
网站查找(方法参考:
http://igfw.net/archives/666
);默认只使用美国的出口节点,如果你想使用其他国家的可以修改torrc文件里的ExitNodes {us},比如修改为ExitNodes {us},{de} ,{nl} 这样就会使用美国德国荷兰的出口节点了。只要你找的https代理足够快看youtube不成问题。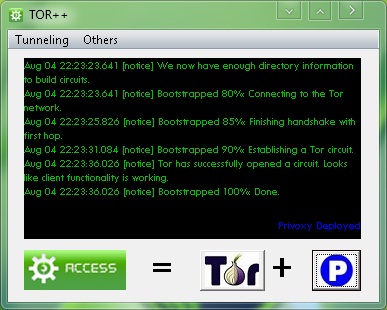 Advantage:
Many option for TOR combination.
Portable no .net framework needed.
Very easy for establishing connection on TOR network.
Q: What is TOR++ ?
A: Tor++ is a combination of 4 main tunneling software such as Polipo, Privoxy, Gpass, and Gtunnel which using the TOR engine to access the internet through TOR network.
Q: how to use it?
A:
* Download tor++
* Connect your PC in your ISP.
* Execute tor++, and wait until it build a TOR circuit.
* And now you can deploy the embedded tunneling software.
Q: How do I configure my browser.
A: Configuring your web browser is depend on what tunneling sw you've depoyed.
PRIVOXY 127.0.0.1:8000
POLIPO 127.0.0.1:8000
GPASS 127.0.0.1:8000
GTUNNEL 127.0.0.1:8081
Proxifier Directly No need
Note: I assigned privoxy, polipo and gpass on the same port so that it would be easy for us to
switch if we wanted. When you deploy GTUNNEL you dont need to configure your browser
it's automatically configure and run browser for you.
Q: How about proxifier?
A: Running Proxifier is optional, if you dont want to configure your browser manualy then
* Run Proxifier as relay – you can use proxifier to tunnel you programs (AV, YM, amfrog, etc) on deployed tunneling sw.
Programs <–> Proxifier <–> Gpass/Polipo/Privoxy/Gtunnel <–> Tor <–> Internet
* Run Proxifier Directly – you can use proxifier to tunnel you programs (AV, YM, amfrog, etc) on TOR network directly.
Programs <–> Proxifier <–> Tor <–> Internet
Note: Source files will be extracted at C:\FBT. [kung gusto nyo likutin setting]
感谢AS网友推荐同时他还推荐了TORPlus组合包有兴趣的可以试试。